Open Access

Subscription or Fee Access
Engaging Claudia Jones by Carole Boyce Davies
Abstract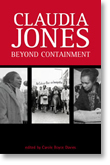 Carole Boyce Davies, professor of Africana Studies at Cornell University, and author of acclaimed
Left of Karl Marx: The Political Life of Black Communist Claudia Jones
(2008), reflects on her newly published, edited collection of the works of Claudia Jones. The book,
Claudia Jones: Beyond Containment
, was published by Ayebia Clarke Publishing Limited on August 2011. In this important audio-lecture Boyce Davies dis-cusses the rationale of the book as well as its importance in preserving Jones political and cultural activist legacy. Reading through the carefully selected and edited text, we see a phenomenal woman, long overlooked, yet who tirelessly campaigned, wrote, spoke out, organized, edited and published autobiographical writings, poetry, essays and subjects ranging from human rights, peace, and struggles related to gender, race and class. Finally, Claudia Jones can take her rightful place among distinguished twentieth-century Caribbean intellectuals whose ideas are easily accessible because they have been documented and well-preserved in books.
Keywords
Claudia Jones; Containment; Audre Lorde; Marcus Garvey; Amy Ashwood-Garvey; Haitian Revolution; Funmilayo Ransome Kuti; Ousmane Sembene; C.L.R. James; Kwame Nkrumah; W.E.B. DuBois; Jomo Kenyatta; Gender; Pan-Africanism; Transnationalism; George Padmore
JENdA: A Journal of Culture and African Women Studies
. ISSN: 1530-5686 (online).
Editors: Nkiru Nzegwu; Book Editor: Mary Dillard.

Published by Africa Resource Center, Inc. All inquiries about rights, permissions, reprints and license should be directed to AfricaResource.

Copyright © Africa Resource Center, Inc., 1999 - .